View your data how you want!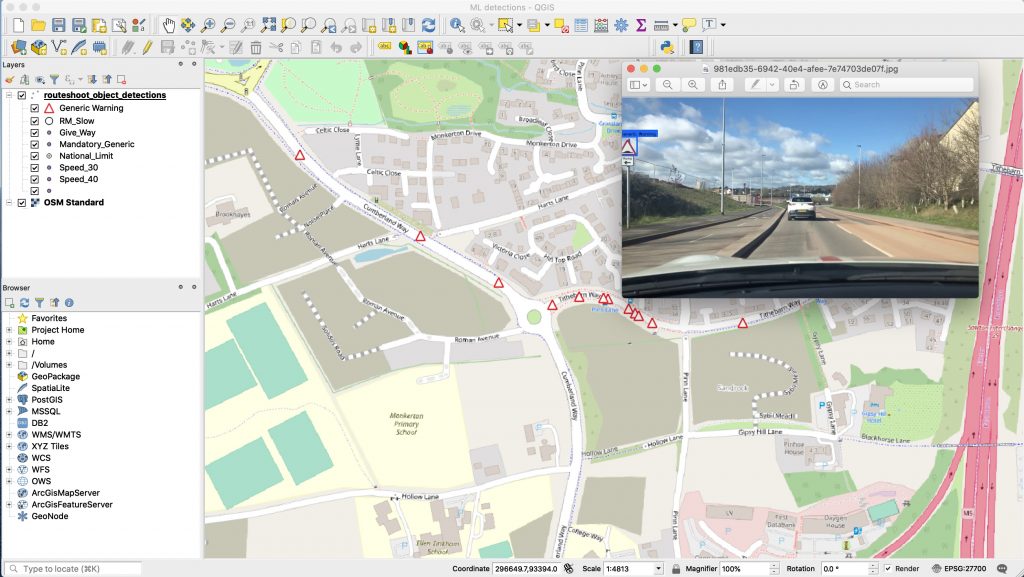 RouteShoot is designed so that the data you collect is completely open for you to use as you need.
We use standard protocols wherever possible such as OGC WFS/WMS so that you can integrate routes and detections dynamically with your own systems.
So, whether it is condition data or asset inventory, you can plot and analyse your Machine Learning output as you want.
RouteShoot is a complete web based solution for handling and managing all your georeferenced video content. Our platform stores and presents your location based video making it easy to view, analyse and share data across your organisation.
RouteShoot ML is an extension to RouteShoot that allows you to process any of your videos using our state of the art ML detection algorithms. We have detection models that allow you to collect information automatically on street furniture, road markings and road condition. With an intuitive and incredibly simple user interface you can take full control of your data collection using a fully "self service" approach from collecting the video to processing the imagery.
RouteShoot is available as a subscription service with all the software and services delivered through your web browser. We have a subscription plan to suit most users but if you have a specific need please do contact us for a bespoke package.
Frequently asked questions
Our award winning platform deals with everything, from creating geotagged videos, to playing them back in our map based video content management system. Contact Us
"RouteShoot has enabled our business to add value to our Design Team resource, sharing and promoting our detailed scheme improvement proposals for the Roads Programme with other teams quickly and easily"
"RouteShoot has proven to be a great asset in planning our Winter Maintenance operations, it has helped us to optimise the routes thereby reducing costs and using the videos for training purposes we have been able to improve driver interoperability"
"RouteShoot is scaleable and cost effective providing a real solution in shorter timeframes, consequently the Philippines Goverment have now mandated its use for their new roads financing program - Kalsada"
"RouteShoot's ease of use, accurate and effective search functionality has been extremely beneficial to both Premier and its clients. The ability to email a link to the videos to anyone with an internet connection has been just awesome and blows our clients away."